Naomie Harris, Tyrese Gibson, Reid Scott, Frank Grillo, Mike Colter, and Beau Knapp are among Black and Blue's cast, which, for the most part, were one of the few redeeming qualities of the Deon Taylor-directed film. While many audiences enjoyed the movie, the critics felt the movie's treatment of the film's topical themes and socially-relevant plot were too simplistic.
It's not unusual for critics to pan a film that audiences love as they are different groups of people looking for different things when in the cinema. Film critics look at other aspects of movies, while audiences just go to the cinema overlooking some minor plot holes and critical details. But even if they have different takes on Black and Blue, both parties agreed that the cast was primarily responsible for making the film an interesting watch. So, let's find out more about each of Black and Blue's cast.
Do you want to know more about Gwen Stefani and Gavin Rossdale's son? Click here to learn more about Apollo Bowie-Flynn Rossdale.
Black And Blue's Plot – It's Very Relevant With Today's Black Lives Matter Movement
Naomi Harris' Alicia West is a rookie cop in New Orleans who accidentally captures the shooting death of a juvenile drug dealer using her body camera. She pairs up with the only person in the town ready to aid her after discovering that police officers committed the murder. After finding out just how corrupt the system is, she goes on the run from both criminals and law enforcement officers who want to destroy the incriminating tape and only evidence of their crime.
The plot of the Black and Blue is very relevant in today's Black Lives Matter movement and the events that caused it to become a global outcry for justice. If you've been paying attention to the news, you will realize just how much injustice is being perpetuated by the people who swore to uphold it. People would also usually catch their discriminative actions on camera. Of course, the film's treatment of racism and police brutality had some shining moments with Black and Blue's movie soundtrack that put audiences at the edge of their seats during the suspenseful and heart-pounding moments. Still, many critics found the entire film underwhelming and simplified.
There aren't that many movies like Black and Blue that try to start a conversation about an issue that the world needs to be having, which is why many critics wanted more from the film. Of course, other films like Training Day, Copland, and Freelancers have different treatments but have cop officers as the main characters.
Have you seen Law & Order? Click here to know more about Sophia Eva Pietra Meloni.
Black And Blue's Cast – They Helped The Film Overcome Its Flaws
Just like we said, Black and Blue's cast became a buoy that allowed the movie to stay floating. Many praised Naomi Harris' central performance alongside a cast of primarily black actors, including Tyrese Gibson and Nafessa Williams, to tell a story that deserves to be told and seen. The world needs to know and learn about racism and police brutality, and every actor did a fantastic job at bringing the story to screen. So, here are the actors who played each character and some fun facts about them:
Naomie Harris as Alicia West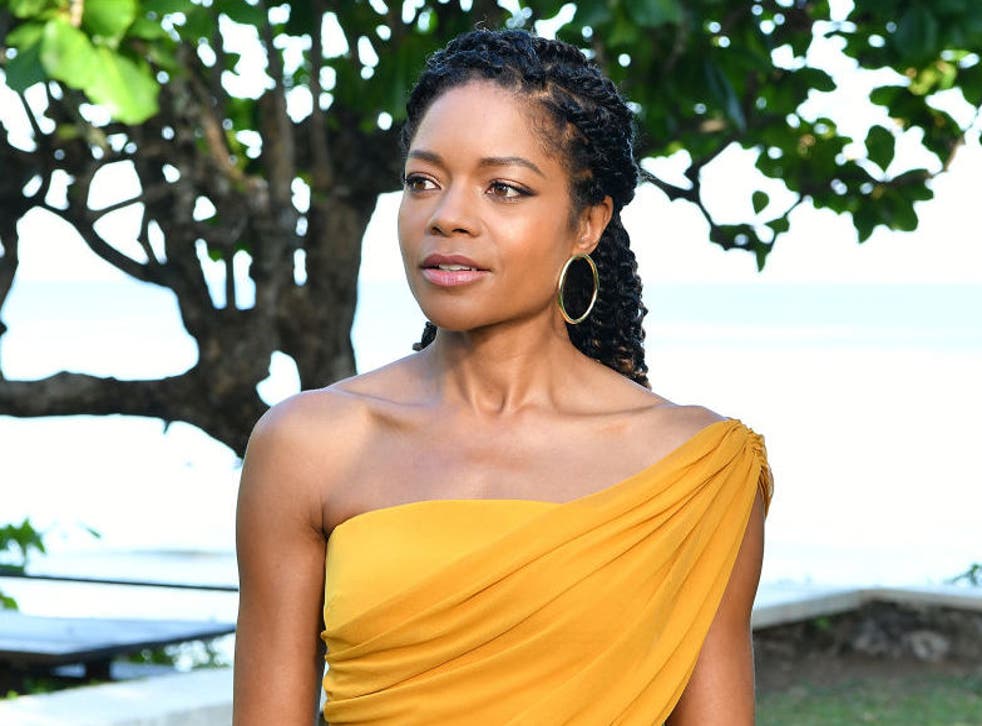 Naomie Harris is a 45-year old English actress whose film appearances include 28 Days Later, Pirates of the Caribbean 2 and 3, Mandela: Long Walk to Freedom (2013), Venom: Let There Be Carnage, Skyfall, Spectre, No Time to Die, and Moonlight. In the 2017 New Year Honours, Harris was named an Officer of the Order of the British Empire (OBE) for her services to the film industry.
During her career, Naomie Harris has openly talked about her struggles with scoliosis and adenomyosis but has never hindered her from performing well in her films. Of course, anyone who has seen her kick some as* in the James Bond films knows that she is a force to reckon with.
Have you seen Law & Order? Click here to know more about Sophia Eva Pietra Meloni.
Tyrese Gibson as Milo "Mouse" Jackson
Tyrese Gibson is a 43-year actor and singer from the United States. In 1998, he released his self-titled debut studio album, followed up with 2001's 2000 Watts, 2002's I Wanna Go There, Alter Ego, his Grammy-nominated album, Open Invitation, and Black Rose. Gibson has sold over 4 million copies of his records in the USA alone. When it comes to acting, he has appeared in several blockbusters like 2 Fast 2 Furious, Transformers, Transformers: Revenge of the Fallen, Transformers: Dark of the Moon, Fast Five, Fast & Furious 6, Furious 7, F9, and more.
Outside of his career, Tyrese Gibson is a family man who spends time with his daughter from his first wife, Norma Mitchell, and his second daughter from his second wife, Samantha Lee. Although both marriages ended up in a divorce, Gibson said he kept an amicable relationship with his ex-wives.
Frank Grillo as Terry Malone
Although Frank Grillo's most famous films are Zero Dark Thirty, Captain America: The Winter Soldier, Captain America: Civil War, and Avengers: Endgame, he has appeared in Prison Break and made his feature film debut in The Purge: Anarchy. In his debut film role, he played Sergeant Leo Barnes, which he reprised in The Purge: Election Year. The 56-year old actor was married twice with three sons.
Do you like country music? Find out if Miranda Lambert is pregnant.
Mike Colter as Darius Tureau
Mike Colter is best known for portraying Luke Cage in the Netflix Marvel Cinematic Universe series Luke Cage, from 2016 to 2018. He's also had roles in The Defenders, Jessica Jones, The Good Wife, The Good Fight, Ringer, Men in Black 3, and Evil.
Mike Colter's love story sounds like it's something straight out of a romantic movie as he met his future wife, Iva, while taking his Master's Degree, and she was studying for her Ph.D. Ten years later, they married in 2016, and they have two children.
Reid Scott as Kevin Jennings
Reid Scott is a 44-year old actor from the USA. His most recognizable role is when he starred as Brendan "Brando" Dorff on My Boys and Dan Egan on Veep. Scott's movies include the romantic comedy film Home Again, Venom, and Late Night. He married his longtime girlfriend Elspeth Keller on June 21, 2014, and they have two sons named Conrad and Damon.
Do you like The Kardashians? Click here to find out how much Kim Kardashian weighs.
Beau Knapp as Smitty
Beau Knapp is a 32-year old American actor who many would recognize for his parts in The Signal, Run All Night, and Southpaw. In Death Wish, the sixth entry of the Death Wish series, Knapp played the role of the main antagonist named Knox lead villain. He also starred in the television adaptation of The Lost Symbol in 2021.
Nafessa Williams as Missy
Nafessa Williams is an actress from the United States. While she isn't that active in her acting career, she is known for her roles as Nicole Gordon in Streets, Deanna Forbes in One Life to Live, and Dr. Charlotte Piel in the drama Code Black. She has also starred as Anissa Pierce in The CW's Black Lightning from 2018 to 2021.
BLACK AND BLUE – Official Trailer (HD)
Enjoy Whatever Floats Your Boat
At the end of the day, we all have our own opinions about the media we consume, so if you find a film to be a good watch despite what the critics say, then, by all means, own it. While many credit Black and Blue's cast to be the film's saving grace, audiences' reviews about the film prove otherwise. After all, it's a free world, and there is nothing more liberating than owning your opinions and living your truths, just like what the film's message is about.
Do you want to read some more articles like this? Check out Jobandedu and our entertainment section.