Ranked as one of the top 10 stars to watch by Variety, Halston Sage is rising to great fame. Halston was in Season 1 of The Orville, but fans were left speechless when she didn't return for Season 2. Why did Halston Sage leave The Orville?
Fans are dying to know the answer to this question. Let Jobandedu unveil you more!
What Do We Know About Halston Sage?
Halston was born and raised in California, United States, in a Jewish family of three children. She started her career in 2011 as Grace in the series How to Rock on the Nickelodeon. In addition to joining this series for 25 episodes, Halston appeared on the thriller series Crisis on NBC in 2013. Her popularity started to peak in 2016 when she joined the science-fiction dramedy The Orville on Fox.
It's hard to take your eyes off her stunning beauty as a Disney princess with blond hair, like Taylor Swift.
Though more people know of Halston for her TV appearances, she had some excellent movie projects throughout her career. In 2012, she started with a teen drama, "The First Time" and three more films in 2013. Fans who have seen Grown Ups 2 in the cinema would remember Halston for her blockbuster role.
It was not until 2014 that Sage gained more attention with her role in Neighbors. She played Brooke Shy – girlfriend of Zac Efron's character in the movie. However, Sage's first nomination for "Best Kiss" by the MTV Movie Award was for her kiss with Rose Byrne in the movie. This was Sage's first-ever and only nomination in her career so far.
Halston Sage In The Orville
Halston starred in the movie as Lieutenant Alara Kitan, along with the star cast of The Orville. The science-fiction comedy-drama written by Seth MacFarlane stars himself as Ed Mercer. In fact, The Orville takes great inspiration from Star Trek and Next Generation. Viewers can't help but laugh out loud like the way they enjoy the "Schrute Farm" in the Office, episode Gettysburg, Episode 8, Season 8.
These famous movies tell the story of the USS Orville crew and their adventures, and so does The Orville (somewhat thrilling like a Longmire book). The show started on Fox in 2017 and went on into 2018, but unfortunately, it received quite negative reviews. By the end of Season 1, Alara Kitan (Halston Sage) left the ship for Xelayan to stay with her family.
This is a big shock to fans because Alara Kitan has always been the muscle of The Orville. Alara is a Xelayan, and she has superhuman strength even outside of her solar system. And in fact, Halston's performance has met the expectations of fans and critics. Therefore, numerous fans, either voice it out or not wanted to know why Halston Sage left Orville.
Why Did Halston Sage Leave The Orville?
There was never any apparent reason why Alara Kitan had to leave the ship. However, some fan theories really make sense which I will analyze in the next part.
Alara, Sage's character, was a vital part of the crew, and her devotion was undeniable. The show writers just went ahead and let go of Alara Kitan to bring on a brand new Xelayan character – Talla Kelagi (played by Jessica Szohr). Fans speculated that there might be some hidden reason for such a sudden show cut.
At first, this shocked fans. 'Alara Kitan' has always been a fixture on the show because she is in charge of everybody's safety. Her improvement as a crew member has helped Kitan win viewers' hearts. Mostly it was because she turned into a capable lieutenant despite being inexperienced at first. Such a drastic change in the character has won admiration from fans. Hence, they were so shocked when Alara decided to leave the crew.
What Led To Halston Leaving The Show?
In the episode "Home" of Season 2, Alara found out that her body becomes weaker as she adjusts more to lower gravity. She decides to return to Xelaya to re-acclimatize and have her strength back. During her time in Xelaya, she managed to reconnect with her family, who were once against joining the military. Hence, even when Dr. Claire Finn found a treatment for Alara's condition, she chose to stay on Xelayan.
On a completely different note, some think Halston's breakup with producer Seth MacFarlane is to blame for her disappearance from the show. Rumor has it that Halston Sage and Seth MacFarlane were dating between 2017 and 2018 – during The Orville Season 1.
Paparazzi sometimes caught them together, acting lovingly towards one another, and hence the dating rumor. If they did date, no one knows why they broke up. Hence, the truth stays hidden behind Halston Sage's disappearance from The Orville.
What Did Halston Say About All This? – Why Did Halston Sage Leave The Orville?
When asked why her character had to rest from the show, Sage gave a smart answer. She didn't say much except that she trusts the writers and the show producers, and there must be reasons behind the change. But was it her own choice to leave The Orville? Or did someone ask her to step off the show?
Sage chose to keep her comeback options open and said that it was for the show's benefits at that time. What a clever actor.
Besides the above information, Fox, Halston Sage, Seth Macfarlane never issued any official explanation why Halston Sage left The Orville. Sage said in one interview that there are chances Alara Kitan would be back on The Orville.
However, fans don't think that would happen anytime soon. Sage has taken on a role in the crime drama Prodigal Son after leaving The Orville, and her filming schedule would overlap with The Orville production. Moreover, the new Xelayan security chief – Talla Kayali – is doing fine on The Orville. It would be strange to swap the two Xelayan characters again.
What Can Fans Expect From Season 2?
The Orville is so famous that its fandom continues to grow along with every episode. Along with expectations for the next episodes, there are talks about special guests and cameos everywhere. The Orville Season 2 Episode 11 cast will star many famous actors, including Tim Russ and Leighton Meester. Russ, who appeared in Star Trek: Voyager as Tuvok, is joining Episode 11, and fans just can't wait. Alongside, Meester will appear as Laura among The Orville season 2 episode 11 cast. As her numerous appearances on TV shows from The Last Man on Earth, Meester is no stranger to Entourage and Tarzan.
Even more excitingly, The Orville season 2 episode 11 cast will also have Regi Davis as Korick. Davis is famous for his role in Mindhunter or Family Reunion. Besides, Davis has had guest appearances on big shows like NCIS or Las Vegas, etc.
Season 2 is going to be exciting having Davis joining. Fans can indeed anticipate some good plot twists with Davis on the cast. Along with the fixtures of the show, Davis can create some extraordinary chemistry. And such a performance will bring fans unforgettable movie moments.
The list does not stop there because Sarah Scott, Bo Kane, and Chris Muto will also join The Orville season 2 episode 11 cast. These actors have made their names in the United States TV show industry. Therefore, their appearance in The Orville will make the show even better.
Will Halston Sage Come Back To The Orville?
So far, no one has confirmed anything: Halston Sage, Seth MacFarlane, or Fox. The silence can mean anything: Alara Kitan would never come back, or she will again join the crew in times of trouble. Despite fans' confusion about the sudden character change, the show's plot is wholly in its writers' and producers' hands.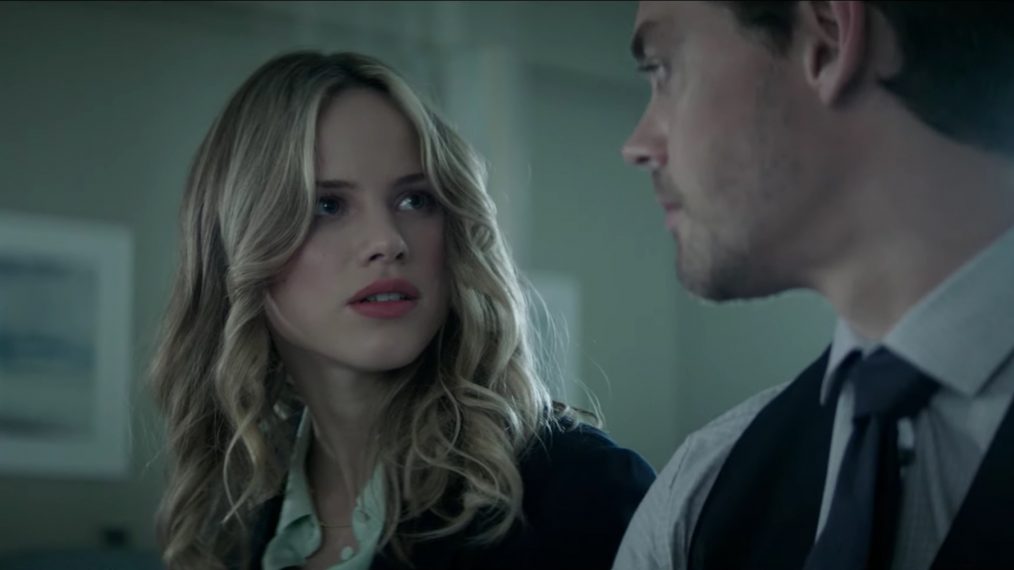 Though Sage may be just starting her career in the Entertainment industry, her excellent acting makes fans wonder why she left the show. Sage's fans obviously can continue to support her for her role in "Prodigal Son". Though "Prodigal Son" tells a darker story than The Orville, fans can be assured that Sage will do well. She has learned how to take on the role but would not let the role take her toll. She knows how to leave the darkness of her role on the film site, not messing with her personal life.