Being a film and TV actor, singer, model, TV host, and producer isn't easy, but there are people built to do these jobs simultaneously, which is why Tika Sumpter's net worth is at an impressive amount, and it's still growing. While these jobs sound fun and glamorous, it was not an easy journey, which gives you more reason to read and find out more about her story and her career's beginnings.
Do you like Keanu Reeves? If yes, you should check out how he and Samuel Nowlin Reeves, Jr. are related.
Tika Sumpter's Journey To Becoming A Star
Early Life
On June 20, 1980, Tika Sumpter was born as Euphemia LatiQue Sumpter in Queens, New York, to Janice Acquista and Arthur Curtis Sumpter, Sr. Her screen name came from her second name, "LatiQue," which many of her friends and family turned into "Tika". It was a shortened version of her name that she got used to until it became her official nickname.
During Tika Sumpter's time in Longwood Senior High School, she was the first African-American cheerleader, which she has confessed as an experience that wasn't easy to go through at that age. She attended Marymount Manhattan College and majored in communications to find an outlet for her childhood interests in acting and dancing.
Fresh from her graduation with a new hopeful life filled with the fire to pursue them, Tika Sumpter had to make ends meet, so she worked as a waitress for a hotel in New York City. While it wasn't her dream job, it was paying her bills and also introduced her to her supportive manager, who saw her potential and urged her to pursue a career in acting. Since it has always been her goal to become an actor, she did as she was told and started modeling after attending several castings that would change her life and build Tika Sumpter's net worth.
Do you like Halston Sage? Find out why she left The Orville.
Career
Tika Sumpter's first modeling experiences began with a-Packard and Liz Claiborne's Curve perfumes commercials, which she did in between her day job and other ventures. In 2004, she was able to land some acting jobs by appearing in educational videos, hosting the reality series My Best Friend's Date, and doing voice-overs. In 2015, she landed a gig in the ABC daytime serial drama One Life to Live as Layla Williamson, a role nominated for an acting award in the NAACP Image Award.
Eventually, Tika Sumpter made her film debut in the 2010 drama Stomp the Yard: Homecoming and the action thriller film Salt. Additionally, she starred as Raina Thorpe in Gossip Girl's CW teen drama from January to May 2011. She also had a recurring role as Jenna Rice in the BET comedy series The Game from 2011 to 2012. Her other notable roles include playing one of The Supremes in 2012's Sparkle, blues singer Bessie Smith in 2015's Bessie, and former first lady Michelle Obama in 2016's Southside With You. These roles help in constantly increasing Tika Sumpter's net worth.
Are you into MTV's dating shows? Find out the untold stories behind Shanley and Chris T. from "Are You The One?".
Tika Sumpter's roles were critically-praised, which allowed her to get more projects, including starring and working as a co-executive producer for the CBS political drama The 313.
She has also starred alongside big Hollywood names like Sissy Spacek, Casey Affleck, Danny Glover, and Robert Redford in the David Lowery-directed film The Old Man & the Gun in 2018. In the same year, she starred with Jamie Lee Curtis in Joe Chappelle's political thriller An Acceptable Loss and opposite Tiffany Haddish in Paramount Players' comedy-drama film Nobody's Fool.
She is also set to star and work as an executive producer in Trader's HBO drama series. It's no wonder why Tika Sumpter's net worth is at $6 million as she has kept herself occupied since she first began in the industry.
Have you seen one of the most viral memes from recent times? Click here to read about the infamous Mariah Carey and Michael Myers meme.
Personal Life
Hosea Chanchez and Tika Sumpter met and dated until they tied the knot in 2009. Unfortunately, due to some differences, they divorced in 2012. After the relationship, she met and dated her co-star Nicholas James who she met on the crime drama series The Haves and the Have Nots, and they welcomed their baby on October 8, 2016. The pair eventually got engaged in January 2017 but still haven't finalized their wedding date. They both admit that being in an interracial relationship under the public eye isn't the easiest thing, but they are making it work.
WATCH VIDEO: Tika Sumpter Feels That Some People Have a Problem With Black Women in Interracial Relationships
Do you want to read more inspiring stories? Click here to read about Henry J. Finch IV's story.
The Future Seems Brighter For Tika Sumpter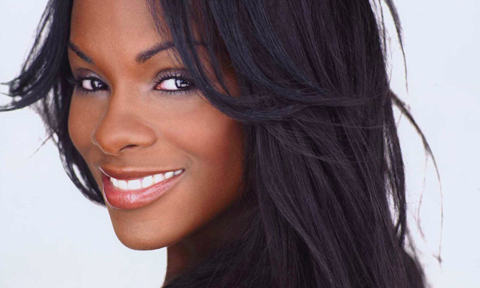 It's undeniable that Tika Sumpter's net worth is continuously growing, especially as the pandemic didn't seem to slow down her career. In 2020, she starred as Maddie Wachowski in Sonic the Hedgehog, an adventure comedy film based on the video game franchise alongside Jim Carrey and James Marsden. In 2021, she also starred in two series, Final Space and Mixed-ish, and she already has one film coming for 2022, which is the sequel for Sonic the Hedgehog.
While Tika Sumpter isn't a household name yet, her fans know that she has worked hard for a career she can be proud of. On her Instagram, you would have a sneak peek into her life with her family. You would also see other interesting posts, including memes, previews of her shows, artists she supports, and more. Have a look at her account and be inspired by her amazingly low-key life.
https://www.instagram.com/tikasumpter/
Do you want to read related articles? Check out Jobandedu and our entertainment section.