Why did Post Malone wear so many tattoos? The young American rapper has made it hard for people to imagine a Post Malone without tattoos!
After just a few seconds of Google search, we can say with almost certainty that Post Malone, the hard-to-hate and hard-to-understand hip-hop artist, currently has more than 70 identifiable tattoos. However, the actual number may be higher since Post Malone's tattoos come in a group or get hidden by clothes. With an impressive number of tattoos, just like Miranda Lambert, he has made it hard for people to imagine a Post Malone without tattoos.
Post Malone's Background And Career
Who Is Post Malone?
Post Malone is a young, talented American singer, rapper, and composer. He is famous for his debut track, "White Iverson", a song that received quadruple platinum by RIAA. His hip-hop and singing talents get noticed thanks to his single "Rockstar," which ranked #1 on the Billboard Hot 100 chart. 
Growing up in Syracuse, New York, the artist played the guitar at 14. With a great music passion, Malone created his first mixtape, "Young and After Them Riches," when he was in high school. Since his hit single, he has collaborated with many famous rappers Kanye West, 50 Cent, Young Thug, Cardi B, and even pop singers like Ariana Grande, Doja Cat. His music style is similar to a perfect combination of country, R&B, grunge, and hip-hop. 
His Childhood & Early Life
Post Malone was born in 1995 in Newyork, USA. His parents got divorced, just like Keanu Reeves', and his father and his step-mother Jodie Post raised him. When he was 9, his father became a manager for the Dallas Cowboys soccer team. Hence, his family moved to Texas.  
Post Malone learned different music genres such as country, rock, and hip-hop from a young age. Also, he began practicing the guitar when he was a high school student. In 2010, the young man tried to audition for 'Crown the Empire' rock band, but unfortunately, he did not succeed.
At the age of 16, he received the title "Most Likely to Become Famous" with his first-ever mixtape 'Young and After Them Riches'. He then attended college but soon dropped out and moved to California with his friend Jason Probst.
Post Malone's Career
Having moved to L.A, he and Probst and some other artists established a band to produce music together. Right after that, he wrote "White Iverson" and released it in 2015. The song received over one million views just one month after its introduction, helping him achieve significant popularity.
White Iverson – one of Post Malone's hits. Source: Post Malone
At the same time, Malone came to perform at Kylie Jenner's 18th birthday party. Here he met Kanye West, who saw Malone's talent and asked him to work with his singer "Fade" on the album 'The Life of Pablo'. Subsequently, the young rapper recorded with famous rappers, including Young Thug and 50 Cent.
In 2016, Malone collaborated with Justin Bieber and appeared as the first act for Bieber's Purpose World Tour. In the same year, he released the mixtape "August 26" and the album "Stoney". He also appeared on "Jimmy Kimmel Live" for the first time.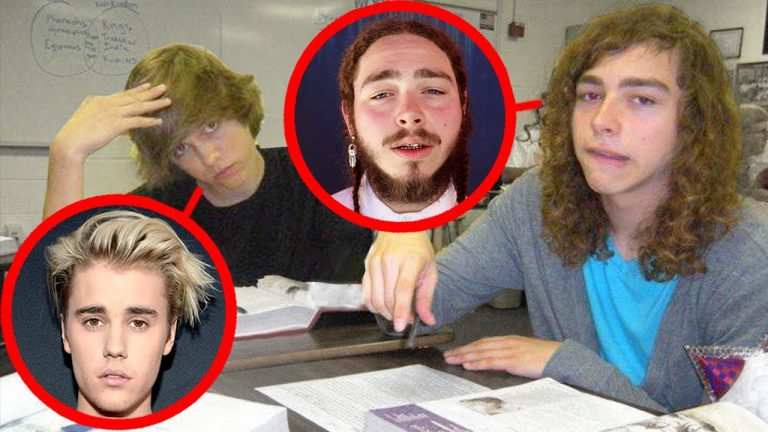 Awesome Post Malone in his young age. Image: biographytribune
Two years later, he and Ty Dolla Sign introduced "Psycho", a new track that quickly gained the Billboard Hot 100 chart's first position. His second album, "Beerbongs & Bentleys", coming out the same year, also received positive reviews in the music industry.
The American rapper's success was due to what should have killed his artistic career. Malone was referred to as "a rich child whose parents paid his way into music" and referred to as "Donald Trump of hip-hop" by the Republic Records' executive.
Can We Expect A Post Malone Without Tattoos?
In 2016, Post Malone and Bieber collaborated on the album "Stoney". It occurs to him that nowhere do his partner and Post Malone look alike. Malone does not have any tattoos, whereas Bieber possesses more than one. He thought that he needed to be tougher than Bieber, so he had a Playboy bunny – his first tattoo.
Rapper with over 70 tattoos
Currently, the young rapper has over 70 tattoos, and he hardly satisfies with that to stop. Usual as it may be for artists to have a lot of ink, the media views Malone as ugly when he tattoos all his body, even his face, making Malone look like no one. The man doesn't take any advice of ceasing tattooing from his friends.
One justification for his love for the ink on his face is that he wants to make his mom mad. He said that it did not matter anyway with his "face for radio." In an interview, the young rapper admitted how he feels about his appearance may be closely related to his artwork.
Moreover, his decision to get so many tattoos makes his mom mad when he puts something cool on his face and gets a fraction of self-confidence for his look. Therefore, how can we expect a Post Malone without tattoos!
Post Malone's Tattoos and Their Meaning?
Post Malone's Face, Head, And Neck Tattoos
Due to his tattoos on his body, many people may think Malone is ugly, but others believe he is "interesting to look at". Let's begin by looking at the tattoos on his face, head, and neck. From his right eye corner are an X-eyed smiley face, a Playboy bunny, and a heart. On each side of his nose lies a number-7 tattoo. Also, a hammer and a sword are parallel to his small tats since he thinks they're a better method to make his mother mad.
Post Malone's face tattoos. Image: Pinterest
Tattoos of Blackjack cards are over Malone's right eye, and underneath them are the phrases  "stay away." A close observation will reveal a giant skull on his skull's right side. Beside his ear is a gauntlet and flail weaponry extending down to his jaw. Barbed wire tattoos run across his forehead, and Malone gets "always tired" under his two eyes.
The rapper wears a Japanese design that looks like waves on his left temper and spans over his heart. Below that is a bloody buzzsaw near a skull with devil horns. The head of Medusa-like figure covers most of his head's right side and on the other side is a giant spider tattoo and a castle on the back. Behind his ears, Malone tattoos New York and Texas – the states where he grew up.
Malone has two large eagles on his back; the right one is white while the left one is black. The name of his album, Stoney, is tattooed on his chin, and spanning over most of his throat is a bison skull.
Post Malone's Chest And Back Tattoos
A sword is across his collarbone, and a Dallas Cowboys football helmet is under his left collarbone. Under the other is a pair of something resembling eyeball dice.
A zombie Jesus is over his right pec since Malone regards Jesus as very handsome and tries to make him super metal. Over the right one is mural art that extends across his stomach. It's hard to figure out what the tattoo depicts precisely, but it seems like an antlered man managing an army of undead.
The famous rapper's chest tattoos. Image: hearstapps
Moving down to his ribcage,  we can see a skull and crossbones. And on his right side is Master Shake from 'Aqua Teen Hunger Force'. The young American rapper gets the phrase "Kill a commie for mommy" on his stomach and the phrase "Molon Labe" (written in Greek) extending over his stomach. 
We're not sure whether Malone tattooed his back.
Post Malone's Arm Tattoos
Moving from his right shoulder, we see a tattoo of prayer hands grasping a gun spanning down his arm. It looks like a melting red face having an eyeball popping out is tattooed on the inside of his right bicep, by which lies a Gallenson's Gun Shop logo.
The name of one of his records, "PATIENT," is lower down on his bicep. His right forearm has an image of a minuteman soldier, beneath which is a knight fighting from atop a horse. Lying beside that is Post Malone himself fighting atop a horse. Another skull with a samurai helmet is on his inner forearm, and a Sauron character is on his right elbow.
Post Malone's arm tattoos. Image: hearstapps
Moving to the left arm, Malone tattoos Johnny Cash in the prayer hands spot, Bob Dylan on his bicep, Kurt Cobain next to his left elbow, and Lil Peep on his left arm. Down his left arm are images of a snake coiled around a rifle as well as a rattlesnake.
The upper part of his left forearm is a Playboy bunny. The bottom part features a Motörhead logo, a skull shaded with the Texas flag, and something unidentifiable surrounding his left wrist's "so far so good … so what" and "Posty Co".
Post Malone's Hand Tattoos
Regarding Malone's hand tattoos, we can find a Barbed wire image and the phrase "rest easy" running across his sets of knuckles. Also, both hands have musician portraits with their faces between the letters and the barbed wire.
Musicians on his fingers include John Lennon, Bankroll Fresh, Elvis Presley, Dimebag Darrell, George Harrison, Kurt Cobain, and Stevie Ray Vaughan. Malone also gets the Cartier logo tattooed on his finger and "S" and "F" letters on his thumbs.
Post Malone's hand tattoos. Image: hearstapps
The rapper's right hand has a grizzly bear's head. He wears another skull and crossbones and the Nirvana album's name "Nevermind" on his right palm. His left hand's bear spot features St. Jude standing over a skeleton, by which is John F. Kennedy's portrait and the Anheuser-Busch log. On his left palm is the word "Whatever," together with the phrase "Nevermind", which makes us think about the line "Oh well, whatever, nevermind" in the Nirvana "Smells Like Teen Spirit."
Post Malone's Leg Tattoos
On Malone's right thigh is another skull with cigarette smoke and the caption "smoke sum." Meanwhile, on his left thigh, we see another skull with police riot gear and the caption "to serve and protect.". Moreover, he tattoos his right ankle with another skull, below another skull next to a table with flowers. 
Post Malone gets his legs tattooed. Image: Reddit
Post Malone has many fictional characters on his left calf, including Belle and the Beast, Vault Boy, and on his left leg with Kagome Higurashi in the manga series "Inuyasha".
Finally, he tattoos a gun over his left knee, something unidentifiable on his ankles, and a Skyrim logo on his left foot.
In conclusion, we are familiar with the American rapper with unique tattoos, so a Post Malone without tattoos seems a bit strange to many. Due to his various tattoos, we may miss one or more ones somewhere on his body. We'll keep you updated whenever we find more.