Stonecutter's job dates back to thousands of years ago. It has played an essential role in the building trades for years. For example, the Minnesota capitol building is mainly made of precisely cut and carved marble. According to Ginny Lackovic, who was responsible for the capitol restoration in 2005, "this building is really a monument made of stone. . . .The exterior is about stone. The interior is also stone.".
It's clear that stonecutters significantly contributed to the building's construction project at that time. However, modern technology is impacting this profession. Thus, it's worth asking how to make a stonecutter career worth our choice. In fact, a brief overview of the stone cutter job can help those intending to pursue this career. 
What Is Stonecutter Job Importance?
Since the dawn of civilization, humans have fashioned their houses with mud, stone, or straw. During the Neolithic Age, fire discovery helped people create quicklime, mortars, and plasters to cement stones together. Consequently, buildings and structures are put up using cemented stones, many of which remain today.
In fact, the stonecutter seems to be as ancient as civilization itself. In the ancient world, impressive architectural works are tailored with the labor of stonemasons. The stonecutter's contribution to the world marvels, from the Taj Mahal, to the Great Pyramid, the Colosseum, down to the Washington Monument, is evident.
What Does A Stonecutter Do?
A stonecutter or stonemason is someone who splits, cuts, carves, or sculpts rough stones into desired shapes, sizes, and patterns for the construction of buildings or structures. In other words, they are partly responsible for the construction, decoration, and similar goals of stone walls, floors, home interiors, etc. Besides, they often have to follow the architectural blueprint or building design to decide what they need to do.
In general, the stone cutter's duties and tasks may include:
Creating design and work surface with the expected finish according to stencil outline.
Investigating artistic objects and graphic materials, including models, sketches, or blueprints for the most suitable cutting/ carving technique.
Laying out designs on the stone surface by freehand or using measuring instruments to transfer them from tracing paper.
Choosing and determining the use sequence between sandblasting nozzles, chisels, pneumatic and surfacing tools due to the complex design or figure.
Removing or adding stencil during blasting to ensure the various depths cuts, complex designs, rough or pitted finish.
Applying abrasive to load sandblasting equipment, attaching the nozzle to hose, turning valves to allow the compressed air, and activating jet.
Verifying cut or carving depth and dimensions using measuring instruments to ensure the required specifications.
To know more about what a stonemason does, you can watch the video below.
Traditional stonemason discusses his craft. Source: Sydney Living Museums
What Is Stone Cutter's Workplace?
Sone cutters can work in a setting that allows them to use their creativity, especially those participating in creating or decorating projects. However, most of the time, they work in construction sites, which accounts for their frequent exposure to poor climate conditions. Typically, they work 40 hours per week and receive extra pay for overtime and holidays. Their tasks involve heavy materials and require standing, bending, or kneeling for quite a long time. Thus, working as a stonecutter is, in general, physically demanding.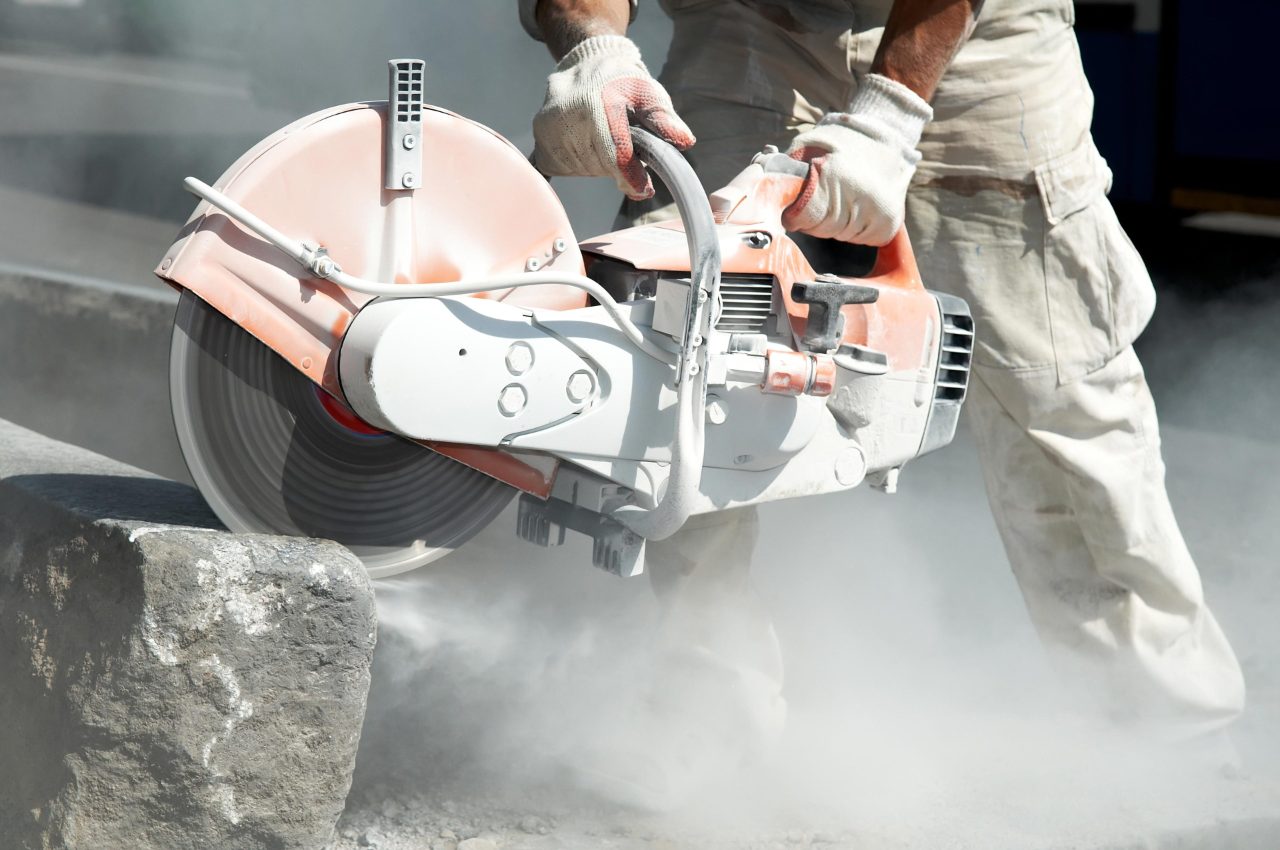 Moreover, according to the International Labour Organization, the stone cutter's job is full of hazards. For example, they are at risk of falling from an elevated position or scaffolding. Besides, when cutting stones with sound for a long time, they may suffer hearing loss. Moreover, improper posture when they lift and move heavy materials also leads to back pains and other problems.
How Much Can A Stonecutter Earn?
As of April 2021, a stonecutter in the U.S. receives an average annual pay of $39,377, equivalent to $18.93 an hour or $3,281/month. The highest salary is about $69,000 yearly, while the lowest one is only around $19,500. In fact, how much a stonemason can earn varies according to skill level, seniority, and location.
The following table shows the highest-paying cities for stone cutters in the US:
| | | | | |
| --- | --- | --- | --- | --- |
| City | Annual Salary | Monthly Pay | Weekly Pay | Hourly Wage |
| San Jose, CA | $47,767 | $3,981 | $919 | $22.97 |
| Oakland, CA | $47,224 | $3,935 | $908 | $22.70 |
| Tanaina, AK | $47,030 | $3,919 | $904 | $22.61 |
| Wasilla, AK | $47,029 | $3,919 | $904 | $22.61 |
| Hayward, CA | $46,234 | $3,853 | $889 | $22.23 |
| Jackson, WY | $46,185 | $3,849 | $888 | $22.20 |
| Norwalk, CT | $46,063 | $3,839 | $886 | $22.15 |
| Seattle, WA | $45,916 | $3,826 | $883 | $22.08 |
| Vallejo, CA | $45,906 | $3,825 | $883 | $22.07 |
| Concord, CA | $45,808 | $3,817 | $881 | $22.02 |
Note: The average salary is estimated according to employer job postings during the 2020-2021 period.
What Is The Stone Cutter Job Outlook?
In general, the stone cutter job outlook is a bit promising considering the medium increase in demands for this profession over the last two decades. In 2018, there were approximately 50,000 jobs. This figure is predicted to increase by 7-8 times each year. However, the job growth rate for this occupation is variable according to the location. 
The table below presents the cities with the slowest and fastest job growth:
| | | | |
| --- | --- | --- | --- |
| Fastest Job Growth | | Slowest Job Growth | |
| Mississippi | 42.11% | New Hampshire | -67.57% |
| Georgia | 15.65% | North Dakota | -63.64% |
| Washington | 14.13% | Hawaii | -61.54% |
| Connecticut | 7.14% | Maine | -52.63% |
| West Virginia | 2.94% | Arizona | -52.63% |
| Idaho | 0.00% | Wisconsin | -49.02% |
| Rhode Island | 0.00% | Illinois | -43.62% |
*Note: The job growth rate above is calculated between 2019 and 2020
What Do You Need To Become A Stone Cutter?
In general, stonecutters often have the same education level, with 66% of them possessing a high school diploma. They often participate in the diploma programs at technical colleges for about one year. The curriculum includes college work where they study building, hewing, and theory relating to masonry, on-site learning, and practical workshops.
For example, they learn maths, such as algebra, geometry, arithmetic, statistics, etc., which helps them apply stone dimension calculation and building design understanding.
Additionally, they need to learn about design techniques, tools, and principles to create accurate technical plans, drawings, blueprints, and models. Also, an understanding of raw materials' characteristics, production processes, quality, and cost control techniques is necessary to ensure adequate material manufacture and distribution.
Also, stonemasons should be able to keep their hands and arms firm while holding them in one position. Their tasks involve grasping, manipulating, or assembling objects or materials. Thus, they need to move their hands or their arms together with their hands quickly.
Last but not least, near vision, which means that a person can see details at close range, is one of the physical requirements for becoming a stone cutter in addition to their physical stamina.
Regarding personality, stone cutters are individuals who enjoy working outdoors and engaging in hands-on projects. Also, they are pretty artistic and creative because some of them may work in a setting allowing for self-expression. Therefore, if you possess one or both of these personalities, you can be suitable to become a stonecutter.
How To Make A Stonecutter Job Worth Pursuing?
All in all, it stands to reason when saying that stonecutters have to struggle to earn their living regarding how mechanization takes over their tasks. The job outlook is not gloomy. But the physically-demanding and hazardous working conditions may put many off continuing or pursuing the profession.
So how to make a stonecutter job worth pursuing? Measures from the government and related organizations such as labor unions will help the stonecutters overcome these obstacles. It should be noted that machines cannot wholly replace skilled artisans who execute a high level of craftsmanship. Also, without stonecutters' contribution, enabling us to adore impressive structures and architectural works today.
Other career advice on Jobanedu that may pique your interest:
It Has Been a Pleasure Working With You – Meaning & Usage
How To Write A Perfect 'Thank You For Getting Back To Me' Email?